Gluten free party food – usually a nightmare for coeliacs, and you could always forget about anything beige, because it was probably rampant with gluten. BUT my friends, gone are those days! Because beige is BACK when it comes to gluten free party food!
Supermarkets are coating things left, right and centre in gluten free breadcrumbs, putting those beautiful golden beauties right back on the table. Literally.
As Christmas fast approaches, I set myself the job of taste testing all the gluten free party food on the shelves to find you the best in breadcrumbs for 2017. You're welcome. Here's my pick of my favourite gluten free party foods this Christmas…
Tesco mozzarella sticks
Stringy mozzarella with a tomato centre, coated in a gluten free breadcrumb. What's not to love?
Sainsbury's British cheese selection
A selection of camembert, goats's cheese and cheddar in different gluten free crumb coatings. These are literally heaven.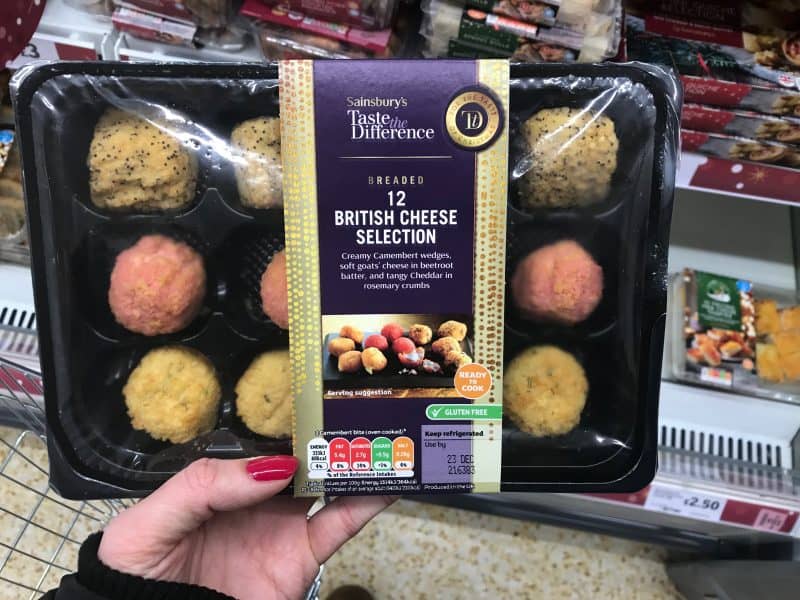 Marks and Spencer mini chicken and garlic kievs
Who doesn't love a chicken kiev? These mini versions are so tasty and you'll keep coming back for more.
Tesco chicken tikka masala bites
Spicy chicken with a gluten free crumb coating makes these the perfect finger food.
Sainsbury's mushroom arancini
Balls of porcini and chestnut mushroom risotto with a crispy coating.
Tesco bacon and egg bites
Bacon, egg, and a ketchup filling – it's like a full English breakfast, canapé style.
Marks and Spencer Italian mozzarella pesto filled mini bites
If you like a mozzarella stick, you'll love these even more. A great gluten free and vegetarian party food option.
Tesco crispy cheese and garlic stars
These were a favourite last year and still taste as good this year. I love the gluten free cornflake crumb for that extra crunch.
Tesco crispy cheesy rings
These are a bit like a mozzarella stick doughnut! Deliciously stringy and cheesy inside.
Tesco green jalapeño peppers with cream cheese
Spicy and creamy at the same time, these crumbed-treats have a bite, and I love it!
So there you have it, my 10 favourite gluten free breaded party foods! For a handy guide to all the gluten free party food on the market, check out My Gluten Free Guide's round-up here.
If you've got any tips and tricks for surviving Christmas on a gluten free diet, I'd love to hear them! Whether it's your favourite festive recipe or a tip for avoiding cross-contamination, post your tips in the comments below, or get in touch on my Facebook Twitter and Instagram pages!