I think I've made the perfect gluten free chocolate cookie recipe. And when you take two of these warm gluten free chocolate cookies and sandwich a slab of deliciously cold ice-cream in the middle, it makes the BEST gluten free cookie ice-cream sandwich!
Funny story, I actually created, photographed and wrote this recipe last year – and then completely forgot to post it! I made it when I tried Northern Bloc – a fun and funky ice-cream with some awesome flavours! I tried three of their flavours: Hazelnut and Tonka Bean, Chocolate and Sea Salt, and Caramel and Ginger.
All of the Northern Bloc ice-creams are gluten free, and free of nasties, so they make for a great treat with some interesting flavour combinations. I absolutely love the branding – they look so smart, I think I might have to come up with some use for the tubs after!
Cookie ice-cream sandwiches
There's nothing that beats a perfectly chewy cookie with chunks of melting chocolate, it's basically heaven. I also decided they simply had to be finished off with colourful sprinkles, and I found these gluten free ones in Co-Op's baking aisle. Sometimes sprinkles contain wheat flour, so it's important to always check.
The gluten free cookies themselves are super easy to make. They're pretty sugar heavy, but this makes them perfectly chewy and delicious. This is definitely a recipe for a treat days – I didn't even work out how many calories are in them, I didn't want to know!
Once you've made the double chocolate cookies, simply allow them to cool on a rack until they have hardened, but they are still a little warm. Use some hot water to ease the ice-cream out of its tub and onto a chopping board – chop off enough to sandwich between your cookie (about half-an-inch) and then place it between two cookies. For the perfect finish, roll in some colourful, gluten free sprinkles before devouring!
The gluten free cookie ice-cream sandwiches are great fun to eat and make, and the perfect messy food to eat. Kids will love them and they're so easy for them to decorate and make their mark. Give them a go with your favourite flavour combinations!
The BEST gluten free chocolate cookie recipe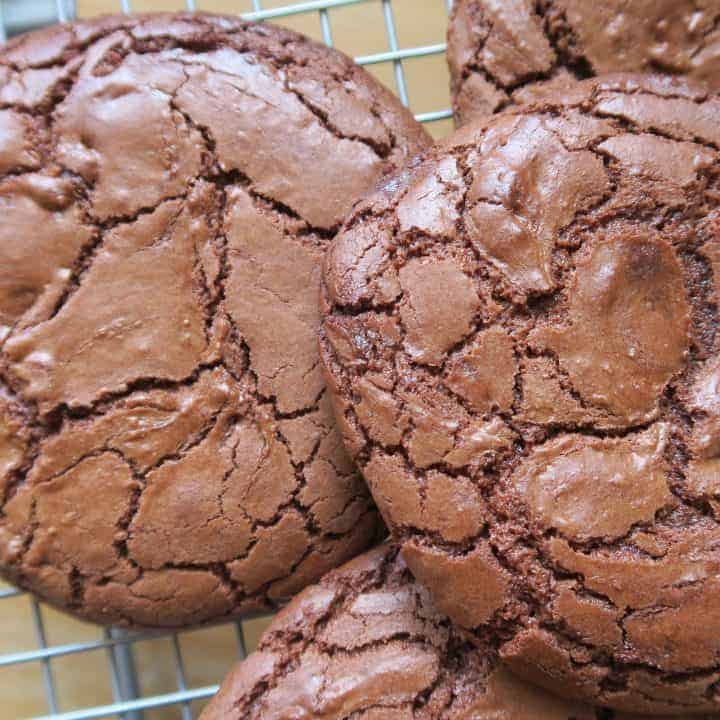 Gluten free chocolate cookies
A delicious and chewy gluten free chocolate cookie, perfect for making gluten free ice-cream sandwiches!
Ingredients
260 g self-raising gluten free flour
110 g unsalted butter
350 g light brown sugar
50 g cocoa powder
2 large eggs
1/4 tsp salt
100 g milk chocolate chips
Instructions
Pre-heat the oven to 180'c / Gas 4 / 356'F. Line your baking trays with baking paper.
Melt the butter in a large pan on a low heat. Once melted, remove from the heat and stir in the sugar and the eggs.
In a large mixing bowl add the flour, cocoa powder and salt. Pour in the butter mixture and stir well until fully combined.
Stir in the chocolate chips.
To make the cookies, place 1tbsp of dough about 2 inches apart on the baking tray. Smooth into round shapes and then bake for 10 minutes.
Allow to cool slightly before placing on a rack to cool completely.
What is your favourite gluten free cookie flavour? I'd love to hear your suggestions in the comments below, or on my Facebook Twitter and Instagram pages!
I was kindly reimbursed for the ice-cream and ingredients used in this recipe by Northern Bloc, but all opinions are my own. I tried their ice-cream before I made this recipe to make sure I loved it first!