Print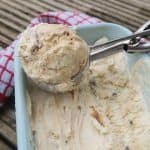 No-churn, gluten free cookie dough ice-cream
If you wish you could eat Ben and Jerry's, why not make your own gluten free, no-churn cookie dough ice-cream? It's so easy!
Add the condensed milk, double cream and vanilla extra to a large mixing bowl and beat with an electric whisk until thick. It should be quite stiff and a bit like clotted cream.

Chop the cookie dough into chunks and fold into the mixture. Spoon the dulce de leche into the bowl and mix until it swirls. You don't want to mix it in entirely but enough so that there are swirls of it through all the ice-cream mixture.

Spoon into a loaf tin, cover with cling film and freeze for a couple of hours until solid.
For best 'scoopage', remove from the freezer about 10 minutes before serving.