Ok, OKAY, I know it's only October and everyone's angry at the supermarkets for bringing out all their festive free from ranges already. I'm pretty sure I've heard 'but it's way too early' so many times and you know what? I don't care. Because the more gluten free treats on the shelves, the better!
You can moan about the early onslaught of Christmas food all you like – and if that's you, then please do bookmark this page and come back in two months' time. However, if you're already stocking up on treats and starting to feel a tiny bit festive, welcome to the grotto.
As usual, there are lots of new gluten free Christmas products out already. I'm not going to bore you with the usual tirade of mince pies and Christmas puddings. Long story short: look in most free from aisles and you'll find them. Oh no, this post is all about the good stuff. The shiny, new, exciting products appearing on the shelves you haven't tried yet.
Tesco gluten free enrobed cookies & cream
These Free From Enrobed Cookies and Cream are basically chocolate covered gluten free Oreos, and they come in 'normal' or chocolate orange flavours! Okay, they're not in festive packaging, but they've launched with all the Christmas products and they sound fantastic!
Tesco gluten free mini cheese snackers
If you're more excited by savoury treats, I've not seen these gluten free cheese snackers before they look yummy! I feel like this is the kind of treat you'd keep on the coffee table at Christmas and just nibble on while watching trashy television! I'm excited to try them, I love cheese!
Sainsbury's free from choc, cherry & amaretto cookies
These gluten free choc, cherry and amaretto cookies from Sainsbury's sound divine! They look like a proper grown-up treat and I love the snazzy new-look packaging too. These would make a lovely festive treat, perfect for a party platter or giving as a gift.
Moo Free hazelnut truffles
How lovely do these sound? Gluten and dairy free (and vegan!) hazelnut truffles, found in Tesco! These would make a fantastic gift and it's great to see some more gluten and dairy free gift options. Christmas is chocolate-central so stock up on these now!
Asda's Roddy the Reindeer Cake
Ok, so Roddy the Reindeer isn't the newest kid on the block, but just LOOK at how cute he is! This cute reindeer cake in Asda is like Colin the Caterpillar's festive brother. It's gluten and dairy free and a great centrepiece for a Christmas party, or to share with children!
Tesco spiced apple tortilla rolls
So these spiced apple tortilla rolls aren't in the free from aisle but they do happy to be gluten free! I love a tortilla roll but I can't quite get my head around these. I'm certainly intrigued – I'll have to give them a go and let you know what I think.
Nairn's gluten free savoury biscuit selection
I've not seen this gluten free festive biscuit selection from Nairn's, but this was new on the shelves in Tesco. I love the Nairn's oatcakes on a cheeseboard so it's nice to be able to buy a full selection of flavours in one box. I'll definitely be getting this for Boxing Day!
Free from cookie & shortbread selection
I absolutely love a selection box and this cookies and shortbread selection box from Sainsbury's sounds fantastic. The perfect mix of gluten free treats and great to stock up on for when you have family over or to give as a gift. The double chocolate ones look incredible.
Gluten free Jaffa Cakes
I have absolutely no idea what is so festive about the gluten free Jaffa Cakes from Schar, other than the packaging! However, if you love Christmas and you love Jaffa Cakes, then go crazy! I picked these up in the Asda free from aisle.
Tesco chocolate orange popcorn
This chocolate orange popcorn from Tesco is another goodie from the 'normal' Christmas aisle which is gluten free. I love the sound of this and will help fix the Chocolate Orange-shaped hole in your life if you have coeliac disease. Perfect for Christmas movie watching!
Asda salted caramel shortbread biscuits
How good do these gluten free salted caramel shortbread biscuits look!? I found these in the Asda free from aisle and they just sound divine. I had to resist buying them for now because I'm pretty sure I actually won't be able to stop eating them once I start.
Gluten free cranberry and orange mince pies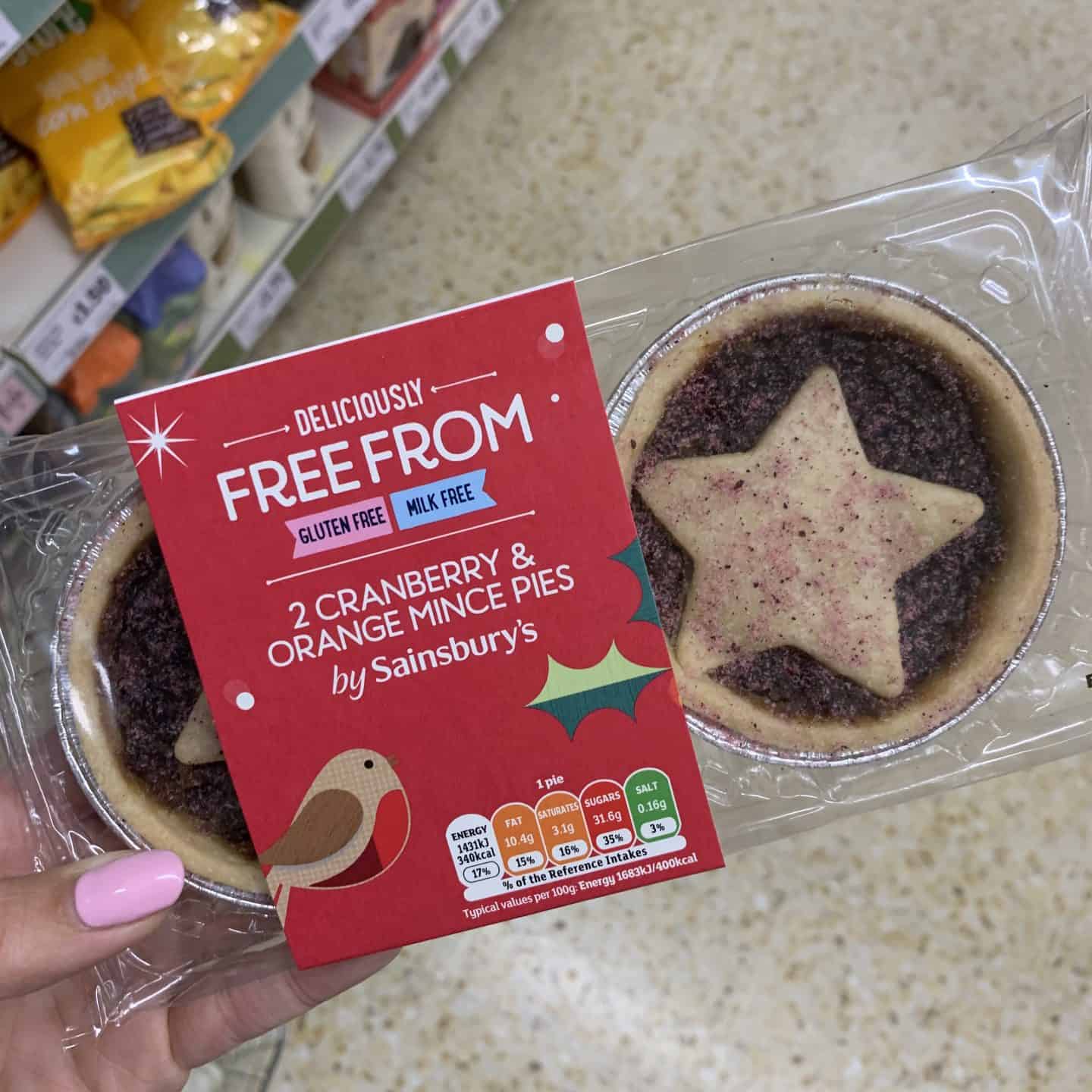 I am a HUGE mince pie fan but these gluten free cranberry and orange mince pies from Sainsbury's look extra special! I love the pink dusting on top and the fact they're a large, open-style mince pie. I found these in the free from aisle and am looking forward to trying them!
Costa mince pie and M&S Christmas sandwiches
Ok, so these are two other oldies that have snuck into this post of new Christmas goodies. However, they're such classics I had to include them! I love the Costa Coffee gluten free and vegan mince pie, and the M&S gluten free Christmas sandwich is just the best. This used to be my office lunch from October until January so now I'll have to make some special trips into town to stock up!
Sainsbury's ginger tiffin bites
These cute and sparkly little ginger tiffin bites from Sainsbury's are gluten, wheat and dairy free and they look super festive. They'd be a great addition to a party spread, or just scoff the lot while you're enjoying a festive evening at home!
Tesco caramelised apple crumble pies
Oh HELLO caramelised apple crumble pies from Tesco! How absolutely incredible do these beauties sound? They're gluten, wheat and dairy free and sound like an excellent alternative for those who don't like mince pies. I've seen them getting rave reviews on Facebook too!
Violife festive dairy free cheese platter
How good is this festive cheese platter from Violife? It's all dairy free and includes mature, smoked and garlic & chilli dairy free cheeses. Definitely stock up on this – I found it in Sainsbury's chilled free from aisle.
Sainsbury's dairy free chocolate Santas
How cute are these! They're gluten and dairy free and only £1 each so would make the perfect stocking fillers. I found them in the Christmas aisle in Sainsbury's with the 'normal' chocolates.
Sainsbury's gluten free gingerbread snowman
Another super cute new product! These little gingerbread snowmen in the free from aisle in Sainsbury's would make a lovely present for a kid and are gluten and dairy free.
Any other new gluten free Christmas newbies?
I'll keep a lookout and update this post as I find more gluten free Christmas goodies! I have seen a few other products on social media which haven't appeared in my stores yet, so I'll let you know when I have spotted them. Any I've missed? Let me know in the comments below!
You might also like…
Liked my gluten free Christmas finds? You might also like to read these next: