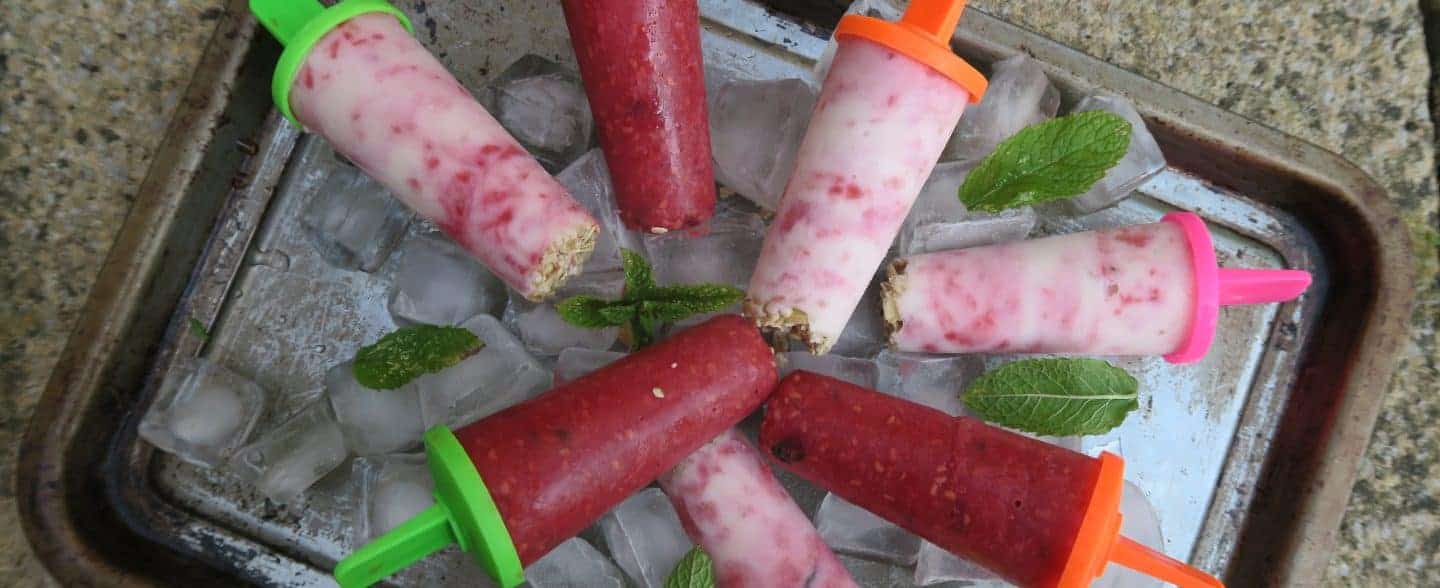 This amazing heatwave really has been like heaven, and what better way to enjoy it than with gluten free ice-lollies?
Want to get straight to it? Skip to the recipes.
If you follow me on Instagram, you'll know I've been steadily working my way through every single gluten free ice-cream I can find. But as this heatwave has lasted longer than expected, I've pretty much exhausted my stocks. So I thought it was time to get creative and make some gluten (and dairy free) ice-lollies of my own.
Making your own gluten free ice-lollies is seriously easy. With these two ice-lolly recipes, you only need a handful of fresh ingredients. They take less than five minutes to prepare, and then you can enjoy a spot of sunbathing while you wait for them to freeze. By the time you're too hot, they'll be ready – it's perfect!
Oh, and while we're on the subject of ice-cream, if you have a bit more time and fancy something a little more indulgent, why not check out my gluten free Ben and Jerry's-style cookie dough ice-cream, or even make these amazing gluten free cookie ice-cream sandwiches? You're welcome.
Gluten and dairy free raspberry mint ice-lollies
These ice-lollies are super refreshing and taste great when it's extra hot. They are gluten free, dairy free and vegan – and you could jazz them up by adding a little rum or gin!
Gluten and dairy free raspberry mint ice-lollies
These gluten and dairy free raspberry mint ice lollies are super refreshing on a hot day. If you wanted to make them extra special, you could add a cheeky slug of gin too.
Ingredients
200

g

fresh raspberries

2

tbsp

honey

(or agave/maple syrup for vegan recipe)

50

ml

water

6-7

fresh mint leaves
Instructions
Add all of the items to a blender and blitz until smooth.

Pour into ice-lolly moulds, and freeze until set. It's really that simple!
Gluten free yoghurt and granola ice-lollies
These are like a cross between ice-cream and ice-lollies! They yoghurt makes them extra creamy and the tang from the raspberries ensures they're not too sweet. I love the crunch from the gluten free granola too!
Gluten free yoghurt granola ice-lollies
These ice-lollies use a couple of super simple ingredients and take less than five minutes to make! You can make them lactose or dairy free too by using lactose free yoghurt, or dairy free yoghurt such as almond or coconut yoghurt.
Ingredients
5

tbsp

yoghurt

(I used lactose free strawberry yoghurt)

1

handful

raspberries

1

tsp

honey

4

tsp

gluten free granola

(I used Nutribrex, but any would work!)

1

tsp

water
Instructions
Add the raspberries, water and honey to a blender and blitz until smooth. You can also use any leftovers from the Raspberry Mint lollies above instead if you like.

Add 1 tsp granola to the bottom of each ice-lolly mould.

Place the yoghurt in a bowl. Dollop on the raspberry mixture and swirl using a spoon - you want it to have a marble effect, so don't over mix.

Pour the yoghurt mix over the granola to the top of the mould. Place the sticks in the mould and freeze until solid, then enjoy in the sun!
I know the heat has definitely put me off going in the kitchen, so once it starts to subside and you're all ice-lollied out, I'll start posting some more gluten free recipes!
If you do make this recipe please let me know! I'd love to see your photos using #theglutenfreeblogger, share them in my Facebook group or tag me on Instagram. And if you have any recipe suggestions, please let me know in the comments what you'd like to see next.